New Video from GUS G featuring ELIZE RYD (Amaranthe)
Back in August I posted a recommendation for the new album from Gus G called "Brand New Revolution" - http://www.rockradioni.co.uk/back-stage/music-reviews/2146-ni-rocks-recommends-qbrand-new-revolutionq-by-gus-g.html
The Ozzy Osbourne / Firewind guitarist has just wrapped up a massive touring run, both supporting Kamelot and then successfully hosting guitar clinics all over Europe. We just received the following press release from Factory music about a new video and a new Firewind singer.
Gus G is launching a new video for the album track "What Lies Below" which features Elize Ryd of Amaranthe on vocals. The stunning video was once again shot by longtime visual design partner / director Patric Ullaeus (in Flames / Arch Enemy / Within Temptation etc) and can be seen here -
Dim lights Embed Embed this video on your site
In addition to further solo shows throughout the end of this year, GUS G. has now also revealed  that his long-running melodic Metal band FIREWIND is finally returning to the spotlight with a new singer and selected live-activity in 2016.
Henning Basse (Metalium / Sons Of Seasons), who had already toured with Firewind on various continents in 2007 as well as most recently with Gus G.'s solo-band, has been announced as new permanent singer for Firewind and will therefore be appearing on the band's upcoming performances at the 70000 Tons Of Metal Cruise as well as Graspop Metal Meeting next year.
GUS G. – Live 2015:

28.11.2015 Dokka (Norway) - Stormbringer Club (An Acoustic Evening with GUS G. feat. Mats Levén)
03.12.2015 Thessaloniki (Greece) - Principal Club Theater
04.12.2015 Athens (Greece) - Kyttaro

FIREWIND – Live 2016:

04.-08.02.2016 Miami/Jamaica - 70000 Tons Of Metal cruise
17.-19.06.2016 Dessel (Belgium) - Graspop Metal Meeting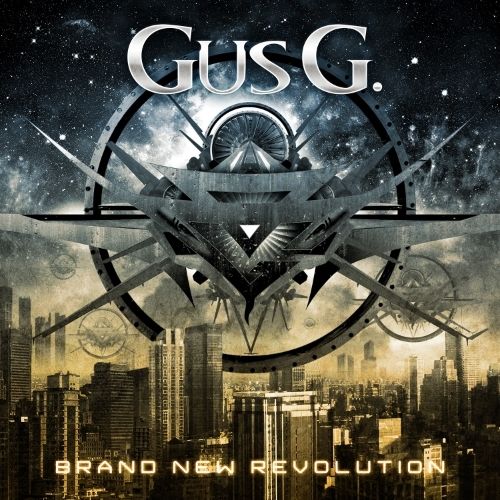 GUS G.'s "Brand New Revolution" album was recorded with Jay Ruston (Stone Sour, Anthrax, Steel Panther, etc.) and mixed by Mike Fraser (Metallica, AC/DC, Van Halen, Aerosmith, etc.). Just as on the "I Am The Fire" solo-debut, the core of GUS G.'s recording group consisted of Jo Nunez (FIREWIND) on drums as well as Marty O' Brien (Lita Ford band) on bass and featured various vocalists.
"Brand New Revolution" entered the sales charts in his native Greece at # 18, in Japan (International artists chart) at # 44, in Belgium at # 69 (Wallonia) and at # 187 (Flemish), additionally reaching the following results in the USA: #22 (New Artist), #87 (Indie Chart) and #37 (Hard Music). The album is available Digipak CD or as 180gr. LP version (On either black or limited coloured vinyl in light-blue / 300 copies or silver / 200 copies) from CM Distro in Europe here: http://smarturl.it/bnrCMDISTRO
The album's first promotional video-clip for the record's title track, "Brand New Revolution" (Featuring vocals by Adler/Lynam front man Jacob Bunton) can be seen here:
Dim lights Embed Embed this video on your site
The album's opening track and only instrumental composition, "The Quest", is available for streaming here: https://soundcloud.com/centurymedia/gus-g-the-quest-album-track/
And the song "Burn", which also features vocals by Jacob Bunton (Adler, Lynam), can be checked via a lyric-video here:
Dim lights Embed Embed this video on your site
Stay tuned for further GUS G. and FIREWIND news soon…
GUS G. online:
http://www.gusgofficial.com
https://www.facebook.com/officialgusg
https://twitter.com/gusgofficial
http://www.youtube.com/firetv
Last Updated (Tuesday, 24 November 2015 23:07)