NI ROCKS Recommends "Higher Time" by ELECTRIC CITIZEN
"Higher Time" is the second album from Cincinnati band Electric Citizen and it was released on 13th May through the RidingEasy label. I wasn't sure what to expect from a band that is clearly influenced by that late 60's / early 70's almost psychedelic rock sound. However, this is one of those albums that just continues to grow on me every time I've listened to it. There is something inherently infectious in Laura Dolan's vocals and the riffs provided by her husband Ross Dolan. The opening track "Evil" is included on the Friday NI Rocks Show on 13th May.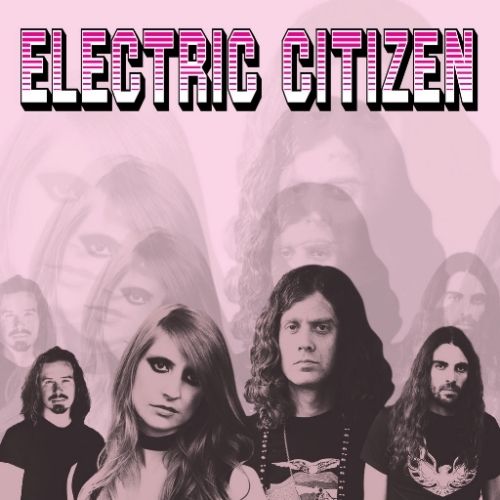 Electric Citizen released their debut album "Sateen" in 2014 but unfortunately that one must have passed me by. Thankfully the PR guys at Palmer Turner Overdrive ensured that I had the chance to check out "Higher Time". I've since discovered that "Sateen" is easily purchased online.
Anyone who caught Wolfmother on tour in the UK and Dublin in April and turned up early enough to see the support band (as you always should!) would have seen Electric Citizen. That tour continued into Europe and finishes in Barcelona on 13th May. There are a few videos on YouTube of the band performing on that tour, including this one of the track "Evil" –
Dim lights Embed Embed this video on your site
Laura and Ross Dolan are joined in the band by bass player Randy Proctor and drummer Nate Wagner. The new album was recorded in the same Cincinnati studios as the earlier album, but this time it was mixed at 'Easy Eye' in Nashville by Black Keys engineer Colin Dupuis.
There are 10 tracks on the new album. If I were to pick 5 favourites I'd go with "Evil", "Devils In The Passing Time", "Golden Mean", "Natural Law" and "Crux"; but it wasn't easy narrowing it down!!
Dim lights Embed Embed this video on your site
About "NI Rocks Recommends"
The simple idea behind "NI Rocks Recommends" is to acknowledge and promote some of the great music being submitted to Rock Radio NI. I'll not be giving marks or ratings or analyzing the tracks in great detail; just telling you something about the artist and the album. It's a personal recommendation to go check something out, not a traditional "review"!
My musical tastes cover most things rock; from the not too melodic to the not too heavy. The albums that I'll be recommending are merely those that I would buy myself and which you'll be hearing played on my shows on Rock Radio NI.
Check out NI Rocks on Facebook – www.facebook.com/NIRocks or Twitter - www.twitter.com/NIrelandRocks